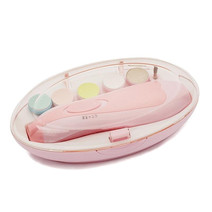 This discount is for you : Baby Nail Trimmer Multifunctional Electric Baby

No More Accidental Cuts
We get how scary it is to clip their nails fearing you might accidentally cut them when they resist/fidget.
With our super soft nail file, you can safely and quickly trim/polish their delicate nails without causing any discomfort to your precious baby.
Hassle-Free Discreet Trimming
Boasting an LED front light and whisper-quiet motor, you can trim their nails while they're sleeping without them ever knowing.
6 Grinding Heads For Each Needs
The Trimming Set comes with 3 cushion sandpaper safe for different stages of babies' growth and various needs while the other 3 attachments are for adult use.
Easy To Use
1. Install 2x AA batteries, then close the cover.
2. Choose your corresponding grinding head respective to the age.
3. Connect the grinding head to the device.
4. Push the button to the rotation and speed that you're comfortable with.
5. Gently trim nails until desired length is reached.
If you're not fully satisfied, please fill in our
contact us form
and we'll quickly work to correct the problem.