This a discount for you : 🎁Best Mother's Day Gift 49% Off🎁Wireless Food Chopper🔥

The food chopper has a powerful motor and high-quality stainless steel blades, for quick and easy food prep. It will chop and puree food in 20 seconds or less.
Premium stainless steel tool can help you accomplish chopping in seconds. This hand food chopper can mince onion, garlic, nuts, celery, pepper, cilantro and more, which meets every need for seasoning.
WHY YOU SHOULD BUY A MINI FOOD CHOPPER?
This device uses a powerful motor to chop up the toughest celery, onions, carrots, and garlic. In just seconds, the onion will be minced into tiny pieces!
STYLISH, SAFE, AND DURABLE
It is a masher, shredder, and slicer all in one. This mini chopper saves you time and effort when you are trying to prepare your homemade food or cooking and salads.
The electric food blender is one-touch activated with a 30-watt high-performance motor. The upgraded 45-degree 304 stainless steel blades are ultra-sharp and powerful. Low Consumption, low noise, high efficiency.
GET YOUR FIRST MINI FOOD CHOPPER
MINI FOOD CHOPPER is designed to chop root veggies and fruits with hard skin. Chop, dice, and slice softer ingredients such as lettuce or cabbage, too! It does not chop bone.
SAY GOODBYE TO MESS AND TEARS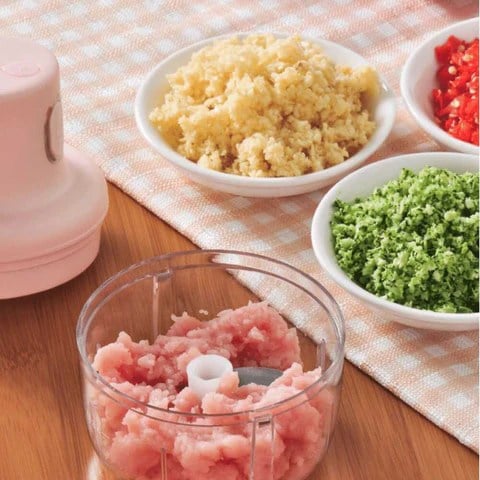 Package Include:
100/250 ML Bowl with Sharp Stainless Steel Double Blade
USB Charging Cable
Click the "BUY IT NOW
If you're not fully satisfied, please fill in our
contact us form
and we'll quickly work to correct the problem.