This a discount for you : Cloud Relief Womens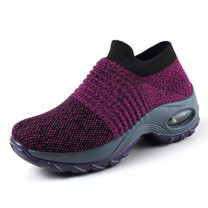 The Ultimate Footwear Solution Proven to Enhance Comfort and Alleviate Pain
*This Exclusive Price Is Available For A Limited Time Only*
Feel Young Again and Move with Ease!
Did you know that shoe choice can affect your whole body, not just your feet? And wearing good shoes helps you be at your best and prevent injuries?
Say goodbye to foot pain and ill-fitting, unsupportive pairs that negatively impact joints and posture, and walk comfortably and pain-free today! Biomechanically designed to give you the ultimate comfort to keep you and your feet healthy and flexible. Our shoe is proven to improve COMFORT & MOBILITY so you can enjoy walking for extended periods, pain-free or your money back.
What makes it different?
✓ Precision Fit – Comfort is king, so we've gone to great lengths to create a sneaker that provides the perfect fit anywhere from narrow to wide widths.
✓ Wide Toe-Box – Takes painful pressure off from bunions and hammertoes.
✓ Stretchable Knit Fabric – Features a lightweight and breathable upper made of synthetic knit material that contours to the shape of your feet.
We keep your feet healthy while you're on the move!
The primary focus is to enhance your comfort with the ultimate all-day wear and all-day comfortable shoe with superior cushioning that keeps your every step smooth.
If you're not fully satisfied, please fill in our
contact us form
and we'll quickly work to correct the problem.