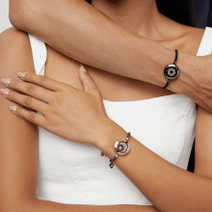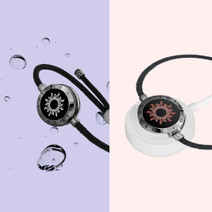 This a discount for you : Totwoo Long Distance Touch Light Up&Vibrate Bracelets For Couples

[Stay Connected to Your Loved One]
No matter how far away from each other you are, you can keep in touch with them with the totwoo Bracelet. Simply tap your bracelet and your partner's will vibrate and flash, knowing that you're thinking about them, sensing the other one's touch through the vibration. This is a great gift for couples, families, children, and close friends.
Unique Design] Bracelets with classic mountain and sea elements, romantic and fashionable. The backs of the bracelets are engraved with Jane Austen's quote, "My heart is, and will always be yours." A zirconium stone is delicately hand-set into the moon bracelet. Bracelet with stylish Milan rope, adjustable size. Available in many colors and designs to match your different styles and outfits.
[Waterproof and Rechargeable] Water resistant for daily use, but not suitable for swimming or bathing. Charge for 1 hour for 7 days of ultra-long standby.
[What Comes with the Bracelets] Every two bracelets come with one gift bag and gift box. In addition, we provide 2 manuals and 2 chargers. totwoo offers 24/7 customer support. If you have any questions or concerns, please contact us.
Technology, Romance, Art All in one
totwoo's another masterpiece in the leading smart jewelry industry with an advanced self-developed nb16 smart chip.
arge 60 min for 3-7 days without recharging to ensure you stay in touch all the time.
Recycling in packaging: One gift bag; One gift box and a gift card.
1.Can i ship two different country?
For Always sun&moon collection products, place two different orders from single sun and single moon with ifferent address.
2.Can we connect to each other while we are far apart?
As long as the Totwoo smart jewelry is correctly set up within
the app with either WIFI or mobile connection, you can connect with each other. No matter how far away you are.
3.Can i connect more than 2 people?
We're sorry, our jewelry didn't support to connect many pieces of jewelry together at present. But you can unpair them and then connect with another one.
4.The price marked in product, it is one or one pair?
All of the Always collection products marked are for one pair(two pieces of jewelry).
If you're not fully satisfied, please fill in our
contact us form
and we'll quickly work to correct the problem.