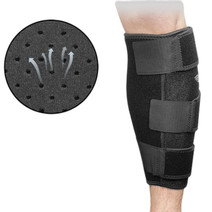 This discount is for you : Adjustable Compression Wrap for Big Swollen Legs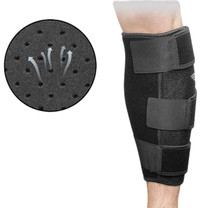 Neoprene Calf Support Brace Adjustable Shin Guard Compression Calf Wrap Band Leg Warmer Sleeve Soccer Running Sports
EFFECTIVE INJURY SUPPORT. Meticulously designed to provide support to the calf and shin from former injuries such as sprain, strain, medial tibial stress syndrome and more, aid in the prevention of further injuries, and provide therapeutic compression on an already injured shin or calf sustained from athletic or occupational activities.
VARIABLE COMPRESSION SYSTEM. The warmth of the materials used such as neoprene combined with the adjustable straps provides a heated compression which helps warm the muscles which increase blood circulation promoting pain relief and rapid healing.
MEDICAL GRADE MATERIALS. The materials used underwent rigorous testing and development to ensure the highest quality and output. Made from lightweight neoprene fabric that is soft and breathable for comfort at the same time virtually indestructible and hard-wearing. Equipped with adjustable straps for quick fastening.
ONE SIZE FITS MOST. Fully adjustable calf brace for superior support and fits either the right or the left leg. From a wide range of body types to any appropriate age and event this brace will provide a comfortable and snug fit for both men and women.
HIGHLY ADJUSTABLE COMPRESSION. The velcro straps are strong enough to provide secured and snug fit compression that keeps in place. It also provides the ability to control the amount of compression when needed which can be worn directly on the calf, over pants or a sleeve. Whether you're an athlete or just needing support, this is exactly what you need!
If you're not fully satisfied, please fill in our
contact us form
and we'll quickly work to correct the problem.