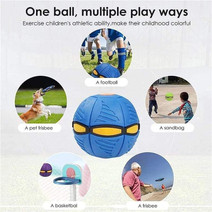 This discount is for you : Blue Flying Saucer Ball Outdoor Parent Child Toy Foot Magic Deformation Foot Pressure Decompression Vent Ball

Product Information
Diverse gaming experience: These toys offer various game modes and interactive experiences. For example, the UFO ball can be thrown and caught, the stomp ball can be stomped and balanced, the deformation stress ball can be squeezed and deformed, providing children with more fun and excitement.
Parent-child interaction: These toys are suitable for parent-child participation, enhancing communication and interaction between parents and children.
Emotional release: The deformation stress ball serves as a stress-relieving tool. Children can squeeze and deform the ball to release emotions and pressure, promoting emotional management and release.
Product Name: bouncy ball
Product material: plastic/plastic
Product size: 22.5*22.5*4cm, 14*14cm
Age appropriateness: Choose toys that are suitable for the age range of the child and ensure proper supervision and guidance during play.
Safe usage: Ensure that children follow safety rules when using the toys, avoiding improper use and reducing the risk of accidents.
Quality check: Regularly inspect the quality and wear of the toys. If any part is damaged or loose, replace or repair it promptly to ensure safety and prolonged use of the toys.
If you're not fully satisfied, please fill in our
contact us form
and we'll quickly work to correct the problem.