This discount is for you : 🎁Cardinal Bird Lighted Art Novelty Lamp🎁

🐦Cardinals are the most popular species among birders and non-birders because of their beauty, devotion to their mates and melodious song.
Meanwhile, Northern Hummingbird stained glass is one of the most popular decorative items in North America.
Simply imagine how the bird sun catcher sugar-coats the window!
A pretty bird perched so perfectly, it lights up the side table in your living room or the empty corner of your desk.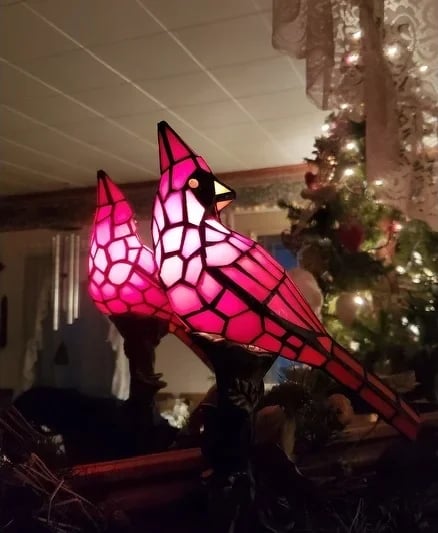 🎁Make a gift for yourself or your loved ones with such a unique design of the birds. Grab a pair (two is always better!) or single cute round birds today and add it to your collection!
💝💝 A cardinal represents a loved one who has passed.
When you see one, it means they are visiting you.
They usually show up when you most need them or miss them.
They also appear during times of celebration as well as despair to let you know they will always be with you.
AUTHENTIC STYLE BASE - Exquisitely detailed tree trunk is made of durable resin for the look of cast bronze just like the original lamps
ARTISTIC & FUNCTIONAL - Vivid red, beautifully crafted cardinal lamp adds light and style to any space, any room
CLASSIC RED CARDINAL - Bird enthusiasts and cardinal lovers will love the inspired design; a favorite for the holidays, winter or any time of year
Exquisitely crafted with an inline switch.
The technique we utilize is called "soft soldering" also known as the "Louise Tiffany Method". This approach has been used for centuries by stained glass artists all over the world, specifically for decorating cathedrals, chateaus, and mansions.
SIZE:
Product net weight: about 135g
If you're not fully satisfied, please fill in our
contact us form
and we'll quickly work to correct the problem.