This discount is for you : High top transition with orthopedic and extremely comfortable sole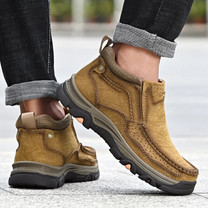 NOT AVAILABLE IN STORES - LIMITED EDITION!
The newly developed design of the transition shoes with orthopedic and extremely comfortable soles ensures a healthy, comfortable and safe posture when walking and walking with the special design and the specially developed sole. The shoes correct your posture and eliminate muscle weakness and muscle imbalances throughout the body by perfectly balancing your feet while rebalancing your bones.
WHAT DISTINGUISHES THE TRANSITION SHOES WITH THEIR ORTHOPEDIC AND EXTREMELY COMFORTABLE SOLES:
► Stable grip: Stable grip and comfortable wearing comfort
► Extremely slip-resistant sole: firm grip in every situation
► All-Rounder : You can wear the transition shoes with orthopedic and extremely comfortable soles without any problems at work or at more chic occasions such as weddings or birthday parties - and without any pain!
► Posture Correction: Stretch your hips, correct your leg position and avoid muscle disorders/muscle pain by automatically adjusting the position of your feet.
► Even pressure distribution: The bow design ensures that your weight is evenly distributed over the toes, arch and ball of the foot at all times.
► Pain relief: No body pain (back, pelvis, hip pain, etc.) when walking through an extra soft cushioned sole.
► Elegant and modern design
► Breathable upper material
► Upper Material: Genuine Leather
► Inner material: Genuine Leather
► Easy to put on and take off: No more annoying tying of the shoes again...
WHY SHOULD I SHOP AT MOSTELO?
Not available for retail sale
Free shipping
Highest product quality
If you're not fully satisfied, please fill in our
contact us form
and we'll quickly work to correct the problem.