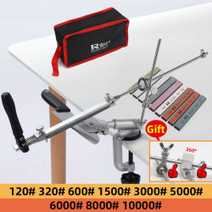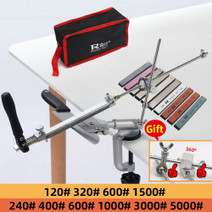 This discount is for you : Knife Sharpener Professional Afilador De Cuchillo Diamond Sharpening Stone Ruixin Pro Rx 008 Afiador Faca Whetstone Kitchen Tool

Tip: Due to the upgrade of our RUIXIN008, after purchase you will receive an upgraded version of the 008 with thickened clamps and stainless steel bearings. (Refer to the comparison picture below after the upgrade)
Welcome to choose RUIXIN fixed angle knife sharpener, a good knife sharpener can make a better knife and let the kitchen enjoy more.
Notes:
* When using the sharpener for the first time, please put the sharpening stone in the water for a while until there are no air bubbles. Maintaining proper moisture can effectively prevent stone wear and prolong its service life.

* When using, add a few drops of water to the whetstone to avoid drying out during use.

* Please wash and dry the whetstone after use, and place it in a dry environment at room temperature. Avoid high temperatures.
How do customers choose a sharpening stone?
1. The lower the mesh number of the whetstone, the harder the surface, which is suitable for tools with short wear debris.

2. The higher the mesh width of the whetstone, the finer the surface, which is suitable for daily polishing.
Seller Tip:
1. Due to special material reasons, hardware products will inevitably have scratches. Buyers who cannot accept it, please purchase with caution, thank you for your cooperation.

2. We guarantee that our knife sharpener is genuine, if there is a slight difference between the product received and the picture, please don't worry that we send you an upgraded version, due to batch reasons, we cannot guarantee that each batch is Likewise, unacceptable buyers, please purchase with caution, thank you for your cooperation.

3. If you receive a damaged product, please don't worry, contact our customer service, we will solve the problem for you in time and provide you with compensation, thank you for your understanding.
Product Size:
360° degree rotation design,Pull out the reversible knife holder
360° flip sharpening knifeis more convenient and simple.
Ergonomic design, suitablefor tool lovers who like to use hands.
Compatible with various blades
※Does not support sawtooth
Suitable for all kinds of knivesand scissors in the kitchen.
Precise control over the sharpening angle
STEP1: Returns to Zero on the Reference
STEP2: Adjust to the required Degree
Wirkungsvergleich
Vor Gebrauch
Nach Gebrauch
Product component description
If you're not fully satisfied, please fill in our
contact us form
and we'll quickly work to correct the problem.