This discount is for you : 🔥LAST DAY 69% OFF🎁 - Flying Skirt Tissue Box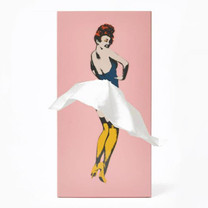 The design is so unique! Everyone love to fix her skirt!
Turn your plain old tissue boxes into something creative and fun! Each time you pull a tissue, the girl's skirt reshapes itself like catching a gentle breeze.
That's exactly what Audrey Tissue Cover Girl is here to do! Dancing around with her peppy pup, it's hard not to notice this girl's flirty skirty! It may take a second to realise that Audrey's skirt is nothing more than a tissue…how's that for a sneeze tease?!
Want to know how to get this look? SNOT hard at all! Just pop this cover on any standard tissue box and let your imagination run wild! Plus, this cover comes with a weighted bottom, so Audrey won't go flying when you pull out a tissue.
This design lets you to interact with daily objects in a truly unique way, and gives you a new and artistic perspective.Place this tissue holder inside any room, and it will not only have a practical use, but will also turn into a unique piece of home decor.
Make your tissues the talk of the town!
And if you get bored of her plain white skirt, insert some colourful tissues to give her a bit more character. You can also decide if you want to give her a flared skirt, circle skirt or A-line skirt…the possibilities are endless!
Audrey Tissue Cover Girl Specifications
Material: ABS
Colour: Yellow/Orange
Dimensions: 25.5 cm x 13 cm x 7.8 cm
Weighted bottom keeps box upright
Tissues not included
If you're not fully satisfied, please fill in our
contact us form
and we'll quickly work to correct the problem.