This discount is for you : Legless Nose Clip Reading Glasses Mini Portable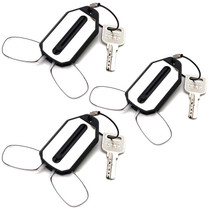 Buying advice:
Under49 years old +1.0 X
50-55 years old +1.5 X
56-59 years old +2.0 X
60-65 years old +2.5 X
66-70 years old +3.0 X
MAIN FEATURES
[Lightweight And Convenient] It is easy to take and use, incredibly thin, farewell to the tympanum, and convenient to fit into the wallet clip.

[Silicone Nose Support] Elastic and comfortable to wear. Non pinching, adjustable nose rest.

[Lightweight Design] Fashion first choice, with seemingly insignificant weight. Lightweight body feel, not easy to mix colors.

[Scientific Design] Can be fitted with a key chain, folded into a pocket, and hung at the waist.
SPECIFICATIONS
If you're not fully satisfied, please fill in our
contact us form
and we'll quickly work to correct the problem.