This discount is for you : Opal Flip-Flop Earrings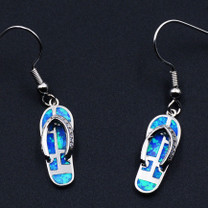 These earrings are the ultimate sunshine accessory, adding that touch of ocean sparkle to every summer ensemble. Let them carry you away to the blissful beach days filled with la
These earrings are the ultimate sunshine accessory, adding that touch of ocean sparkle to every summer ensemble. Let them carry you away to the blissful beach days filled with laughter, sunshine, and the soothing rhythm of the waves.
Details:
Platinum Plated Over Brass
Lab-created Blue Opal Inlay
Earring Size: 20mm(L) x 11mm(W)
If you're not fully satisfied, please fill in our
contact us form
and we'll quickly work to correct the problem.