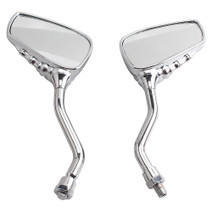 This discount is for you : Pairs of Distinctive Skull Hand Rearview Side Mirror

8/10mm Universal Skull Hand Motorcycle Rear View Mirrors Chrome Plated ABS Shell Side Mirrors
High-performance Rearview Mirror
Unique skeleton hand design: Unique skull style design to make your bike more cool. ABS, silver, more fashionable than ordinary rearview mirrors, making the motorcycle have a cooler appearance, suitable for most riders who like to upgrade the appearance of motorcycles, and can perfectly replace the original rearview mirror
Adjust the suitable angle: The rotating design can easily adjust all angles to meet the field of vision of every driver. Anti-glare mirrors can reduce the impact of rear lights on the driver, making driving more safe
Excellent quality: Vivid skeleton hand appearance, high-quality Chrome Plated ABS shell/ Clear mirror glass/ chrome-plated steel stem, high strength, lightweight, lightweight products can effectively reduce the burden on motorcycles, making driving easier. It can effectively resist rain erosion and prevent rust. Help the rider to drive in rain/snow, bad weather.
Chrome-plated surface: The rearview mirror is smooth, shiny chrome-plated surface, has a good sense of fashion and can resist scratches
Clear mirror: Wide mirror, can bring clear vision for the driver, and with anti-glare
Perfect upgrade: Comparable to the original rearview mirror accessories, an excellent choice for upgrading motorcycle rearview mirrors
High-quality Shell
Chrome-plated design of ABS
Waterproof
Preservative
Scratch resistant
Hard shell
Easy To Install
It takes about 5-15 minutes to complete
Easy to disassemble
Very stable after installation
Adjustable angle
Universal
The product is equipped with 8/10mm adapter
Suitable for most bicycles
Fit for Kawasaki Honda Suzuki Yamaha Harley Ducati
Excellent Upgraded Rearview Mirror
Color: Chrome Silver/Black
Material: Mirror housing-ABS, Mirror surface-Glass, Rod-Aluminum alloy
Overall size: length 23cm, rod length: 14.5cm, mirror size: length 9.5cm, width 5.5cm
Package: A pair of rearview mirrors with 10mm threaded adapters + 8mm threaded adapters*2
If you're not fully satisfied, please fill in our
contact us form
and we'll quickly work to correct the problem.