This discount is for you : 🌼Spring Hot Sale - Hanging flower stand

Add a touch of green to your balcony, no longer worry about no enough space
🌼The hanging plant stand adds a sense of decoration and provides a strong support for your potted plants. Elegant and artistic - perfect for your patio, porch, balcony, garden, etc. For deck and porch railings
🌼Flexible and compact punch-free hook design, tough and strong force, fine craftsmanship; high-density stamped iron grid, strong load carrying capacity, sturdy and durable, high-strength scratches, high temperature resistance; neatly installed on balcony railings or fences
🌼Metal materials have good load-bearing properties and rust resistance. It is a perfect combination of plants, such as lush green plants, potted succulents, etc.
🌼Lift on the plant stand to make watering easier and prevent damage to the floor. User-friendly design, beautiful, more convenient to move and clean your lovely plants to your home decor. Plants are very popular in most families. They can not only clean the air, but also decorate the room
Strong weight capacity
Easily load more than 10kg
Product Size: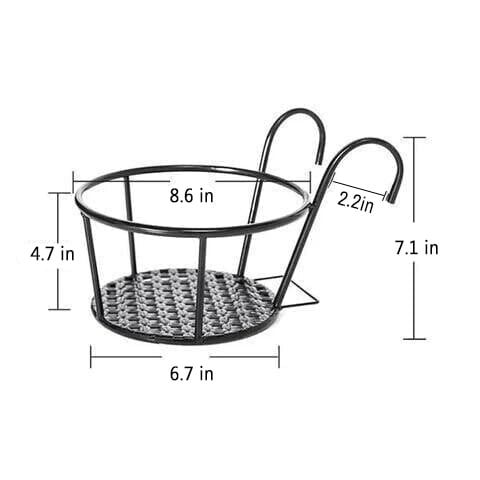 If you're not fully satisfied, please fill in our
contact us form
and we'll quickly work to correct the problem.