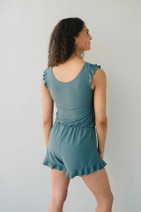 This discount is for you : Swim Romper Built-in Bra

Our swimsuit is made to be versatile and effortless. No more baggy t-shirts, extra cover-ups and awkward holes or strings or clasps! Just swimwear rich in comfort, style and practicality.
Worried about your swimsuit look like wet? Because our suits are equipped with a water resistant coating, when splashed water will roll right off, but when fully submerged, your suit will become wet and may stick to the body a tiny bit; however, the suits really do hold their shape!
We believe in loving and embracing your body for exactly how it is. This Swim Romper with emovable bra cups and luxury inner lining is supportive, enhancing and flattering suits around while still offering a loose, comfortable fit.
Nursing-Friendly & Tummy Control
The Swim Romper is features with crossed v-neck, ruffle shoulder and hem design, nursing-friendly for moms and create a flattering look in style, ruffled sleeves and shorts come for a sophisticated take on a tropical-inspired look.
Tummy control with inner bottom attached at the waist and inner construction detailing, enable women to feel in control while wearing the Swim Romper, offering added support and shape.
Summer Beach To Swim, For You Always!
Perfect for Tropical Vacations, Summer, Beach & Swimming Pool, Honeymoon and Cruise.
Details:
Supportive bra with 1-inch elastic band
Removable bra cups
Luxury inner lining
Four-Way Stretch Fabric
Water resistant coating
Ruffled sleeves and shorts
Functional pockets
Fabric
polyester fibre
Size Chart
If you're not fully satisfied, please fill in our
contact us form
and we'll quickly work to correct the problem.