This is a discount for you : Calf Stretcher & Foot Stretcher for Plantar Fasciitis - Hamstring Stretcher Stretching Strap for Achilles Tendonitis, Leg Stretc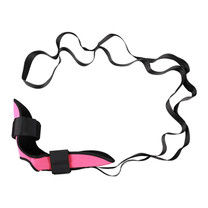 Effectiveness:
1. Plantar Fasciitis Relief
2.

Relieve Heel Spur Pain


3. Relieve Plantar Pain
4. Alleviating foot pain caused by excessive training and prolonged standing
【Relieve Foot Pain】: Our foot and calf stretcher is specially designed to relieve foot pain caused by plantar fasciitis, Achilles tendonitis, and other foot injuries.
【Improved Flexibility】: The stretching strap will help to improve the flexibility of your muscles and ligaments, which will help to prevent future injuries and improve your overall athletic performance.
【Versatile】: The calf stretcher and foot stretcher can be used for stretching your calf muscles, hamstrings, and foot arches, and can be used by dancers, athletes, and yoga enthusiasts.
【Comfortable and Durable】: Made of high-quality materials, our stretching strap is both comfortable and durable, ensuring it will last for years of use.
【Easy to Use】: Our foot and calf stretcher is easy to use, and comes with clear instructions to help you get started.
Packaging information:
Package size: 23 * 15cm
Single weight: 150 g
If you're not fully satisfied, please fill in our
contact us form
and we'll quickly work to correct the problem.