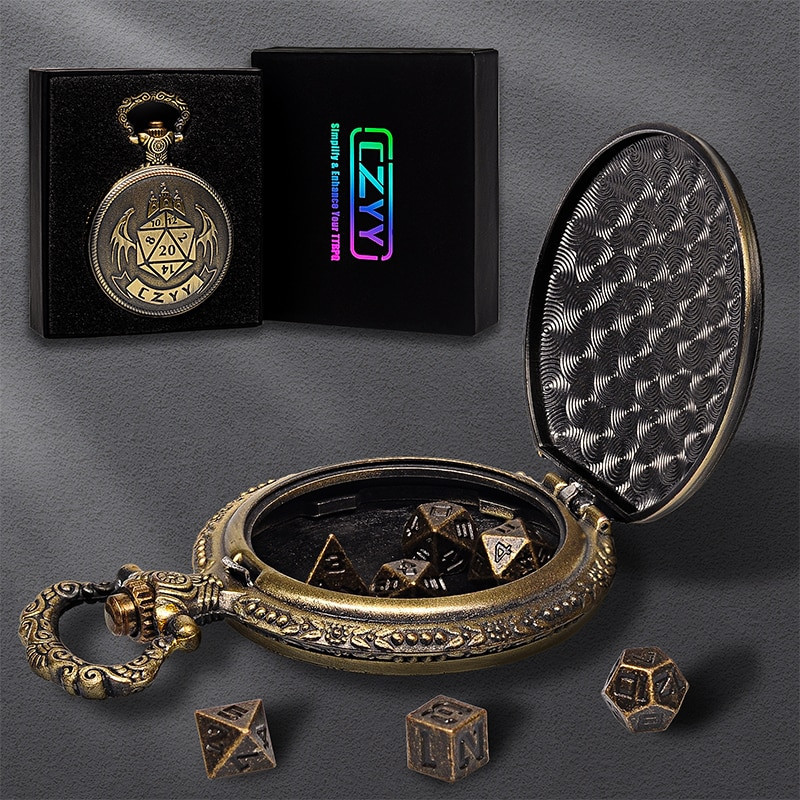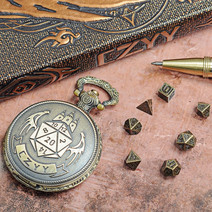 THIS IS A DISCOUNT FOR YOU : DND 6mm Micro Polyhedral Dice Set with Pocket Watch Shell Case Perfect for Dungeons and Dragons, Tabletop RPG

Bullet Points:
6MM MICRO DICE - It is currently the smallest metal dice set, the side length of D6 is 6mm, they are perfect for your Goblin, Halfling, Gnome, Fairy, Pixie characters. This tiny dice set easily fit in your pocket so you can bring your dice everywhere you go. Perfect for gaming anywhere, anytime!
WITH POCKET WATCH SHELL FOR DICE CASE - The standard 7-Die mini polyhedral RPG dice set contains D20, D12, D00(D%), D10, D8, D6 and D4. Comes with a steampunk style pocket watch shell, perfect for storing these tiny dice inside. And it makes a beautiful keychain decoration you will like to shake it and peep the d20 to see how your day is gonna be.
WELL BALANCED, RANDOMISED ROLLS - These amazingly crafted antique dice are made of a die-cast non-toxic zinc alloy and are well balanced, making them ever so satisfying to roll. Numbers are engraved and painted in black boldface, so they are easy to read.
ROLL FOR ANY GAMES - The dice is nice ,classy design, well balanced, perfect for the RPGs such as Dungeons and Dragons, Shadowrun, Pathfinder, Savage World, Warhammer, Yahtzee and many other RPG and card games. Time to roll iniative and kill the table with CZYY micro dice set!
CUTE GIFT & COLLECTION FOR DICE GAMER - Really cute, works well, and will get a laugh from your gamers. This mini dice set of polyhedral dice are a great addition for anyones growing dice collection. Makes a cute gift for a gamer, Dungeon Master, or yourself!
Description:
Do you like absolutely teeny tiny things & feeling like a giant? Want some miniature dice for your doll?
Do you always run out of space when DMing an adventure?
Then CZYY got the thing for you! We make something REALLY REAAAAALLLLY small to help you have more space for storytelling during your campaigns!!<br>
This amazing set comes with one set of 6mm tiny dice, and one steampunk style pocket watch shell. They are ready for your greatest roleplaying adventures! Though they may be small, the dice roll large. The perfect dice set for slaying dragons, saving princess, and trying desperately to out of trouble!
<b>Micro Dice Set Features:
- Made of zinc alloy.
- Sharp edges and corners.
- Each dice is approx. 6mm in diameter.
- Contains D4, D6, D8, D%, D10, D12 and D20 dice.
Package Included:
- 6mm Micro Polyhedral Dice Set
- Pocket Watch Shell Case
If you're not fully satisfied, please fill in our
contact us form
and we'll quickly work to correct the problem.