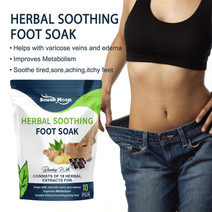 THIS IS A DISCOUNT FOR YOU : PRO Herbal Detox Foot Soak Beads

ginger foot bath bag relax the soles of the feet and relieve physical fatigue mild detoxification improve sleep health care bag
Description:
Name: foot bath bag
Gross weight: 82g
Size: 12*7 * cm
Applicable: General
Product packaging: bagged
Ingredients: ginger, saffron, wormwood, pepper, motherwort, angelica
Efficacy: Relax the soles of the feet and relieve physical fatigue
Specifications:

1. Gentle: Foot Bath Pack Gentle Herbal Formula Stimulates Detox Elements:
2. Ingredient safety: This product is a foot bath bag made of wormwood, epimedium, bath salt, etc., which is crushed, mixed and packaged.
3. Relieve stress and fatigue: Our herbal foot soak can not only support the kidneys and accelerate the basal metabolic rate, but also effectively reduce stress, improve circulation, and relieve stress
4. Help sleep: Our drainage ginger foot soak liquid is perfect for protecting your hands and feet in cold weather, relaxing your body and pampering your sleep
5. Small and portable: These foot bath bags are light and small, easy to store and carry, you can put them in the bag when traveling
Package Included:

10pcs * foot bath bag
If you're not fully satisfied, please fill in our
contact us form
and we'll quickly work to correct the problem.