This is a discount for you : Rat Flip & Slip Trap Bucket Lid Mouse Trap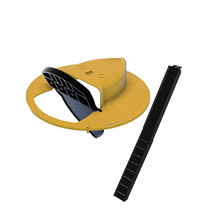 🐶PET/CHILDREN FRIENDLY - Stop purchasing traditional Mouse/Rat traps which can harm your family pet or even worse... your children. Our Mouse/Rat trap is 100% safe and nontoxic.
🧼👏 Sanitary - No more having to dispose of dirty corpses from a glue or snap trap, which can potentially infect you with a deadly disease. Now simply release/dispose of the mice/rats without getting close to the mess.
🐀🐭Mice/Young Rats - Our trap has the unique capability to catch both mice and small to medium sized rats
Product information:
Item Weight:10.68 ounces

Package Included:

1*Flipped mousetrap(Without bucket)
If you're not fully satisfied, please fill in our
contact us form
and we'll quickly work to correct the problem.