This is a discount for you : YUMESILM Tummy Tightening Thong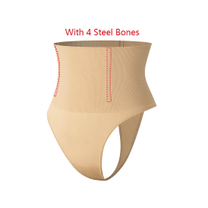 ❤️This week's special event: Randomly selected 33 lucky customers to get double the order product every day. We will send you an email, please remember to check, thanks for your support❤️
Wear Your Favorite Clothes Again!
Anyone without a perfectly flat tummy knows how discouraging it is to have belly fat annoyingly bulge through clothes.
YUMESILM™ Tummy Thong is not just a piece of clothing; it's a confidence booster designed to make you feel incredible in your favorite clothes again.
WHY YOU WOULD LOVE IT?
Say hello to the gorgeous slimming thong that really shapes and defines your curves. With the same straightening technique applied to each of our shaping suits, you will look glamorous, cute and sexy at the same time. Like all of our bodysuits, pair it with your favorite panties OR wear it under a dress to show off soft, sculpted curves.
Cover up your lower tummy, mom pooch, muffin top, fupa & more today with our viral YUMESILM™ Tummy Tightening ✨
Independent bracket support design
【Do Not Roll Down】: our YUMESILM™ tummy thong has 4 built-in spiral steel bones to provide support to your midsection and back, helping to relieve back pain and improve posture. YUMESILM™ tummy thong stays in place, without rolling up or slipping.
We've listened to everyone and designed a thong that's so stretchy and soft it feels like your second skin!
It stays in place at your core, lifts your hips, shapes your waist, and smoothes your tummy while remaining invisible under your clothes.
No more worrying about visible panty lines or discomfort.
With a little extra determination, you'll get your perfect you back in no time!

WHY YOU NEED THIS IN YOUR CLOSET

🍑:
Holds In Your Core, Shapes Your Waist, and Smoothes Your Tummy
360° Body Sculpting Mid-Waist Design
No Visible Panty Lines, Sits At Natural Waist
More outfits made EASY!

---
Re-experiencing Confidence
The Tummy thong is more than just a piece of clothing, it's a transformation. It makes you feel good in your skin and allows you to embrace your body.
It's a joy to put on your favorite dress or your most comfortable jeans and feel your best.
You're not just buying a product, you're buying a feeling. A feeling of confidence, comfort, and absolute beauty.
Shape 👉 Multiple parts of the body
👉 Tummy 👉 Hips 👉 Waist 👉 Core 👉 Hips 👉 Overall body shape
loved by thousands of women
Women from all walks of life are praising its comfort, its invisibility under clothing, and the empowering feeling it brings.
They're experiencing a newfound love for their bodies and a joy in dressing up that they hadn't felt before.
This isn't just a product, it's a movement towards self-love and body positivity, and thousands of women are proudly part of it.
---
FAQs :
Can I wear it under any type of clothing?
Yes, you can wear this under any type of clothing that you want, including dresses, skirts, jeans, leggings, and more!
Do they slide off when I sit down?
No, they won't, we've designed them with four bracket supports so they're always fixed in place and won't roll and slide.
How do I wash it?
We recommend hand washing in cold water and laying flat to dry.
Can I wear this every day?
Yes, you can wear it comfortably every day, but we recommend taking breaks to allow your body to breathe!
If you're not fully satisfied, please fill in our
contact us form
and we'll quickly work to correct the problem.