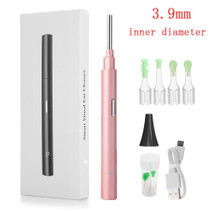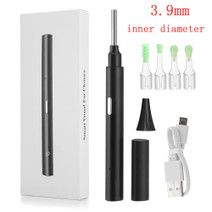 This the discount for you : Clean Earwax-Wi-Fi Visible Wax Removal Spoon

Specifications
Material: ABS
Color: black
Size: 1.3*14cm
Weight: 0.016kg/0.049kg
Packing size: 17*6.5*1.8cm
Battery: 250mah lithium battery
Battery life: 60 minutes
Charging time: about 1.5h
Input current: DC 5V 300mA
Packing List
1* Host
4* Silicone Eartips
1* Silicone earplugs
1* USB Charging Cable
1* User Manual
Features
1.Six axis directional gyroscope can can realize body rotation and keep the lens angle of view unchanged for user friendly operation, suitable for daily ear cleaning care and professional ear disease check.
2.Built-in WiFi hotspot and 3mm diameter camera lens can achieve clear image and real-time whole process video of earwax digging with rich details for practical observation and check of ear canal.
3.High brightness LED lights can provide auxiliary illumination to help improve the image clarity in dark or low-light condition.
4.Widely compatible with Android & iOS smart phones and tablets for more convenient connection.
5.Waterproof camera lens can enable easier and painless access into your body and wider application range for eyes, nose, oral, skin and etc.
Specifications
Material: ABS + Aluminum Alloy
Color: Green(As Picture Shown)
Waterproof Rate: IP67(For Lens Only)
Lens Resolution: 3.0-5.0MP
Lens Diameter: 3.0mm
Viewing Angle: 70°
Focal Distance: 1.4-1.8cm
Network Standard: IEEE 802.11 b/g/n
Wireless Antenna: Built-in 2.4Ghz 3dbi
Charging Input: DC 5.0V 260mAH
Charging Time: About 1.5 Hours
Package Included
1* WiFi Otoscope
4* Earpick Tips
1* Charging Cable
1* User Manual
Features
1.This wireless intelligent visual earpicka can be used to clearly observe the ear canal, easily clean the earwax without hurting the ear.
2.The high-definition endoscope, high-sensitivity sensor, multiple lens combination, and six LED lights make the inside of the ear canal clear at a glance.
3.Smart APP and WiFi direct connection can provide clear images in any situation, helping you to clean your ears more easily and safely.
4.The multi-axis gyroscope can realize 360° precise ear harvesting without dead angles, which is convenient for you to carry out daily ear cleaning and care.
5.The ultra-fine diameter of 4.5mm, the clip-on fixed ear tip, can easily penetrate into the ear canal without hurting the ear or falling off.
Specifications
Material: ABS
Color: White, black
Size: 164*68*18mm
Weight: 0.053kg
Packing size: 164*68*18mm
Network standard: IEE802.11b/g/n
Working frequency: 2.4GHz
Image transmission rate: 20fps
Image sensor: CMOS
Working temperature: -10~40℃
Battery: 130mAh
Use: 30 minutes/time
Input current: DC 5V 300mA
Best focal length: 15-20mm
Pixel: Ultra HD camera
Gravity sensor: 3Axis
Connection hotspot: softish-XXX
LED: 6*LED
Packing List
1* Host
5* Replaceable ear pick
1* USB Charging Cable
1* English User Manual
If you're not fully satisfied, please fill in our
contact us form
and we'll quickly work to correct the problem.